The Snowmobile as Featured in Corvette Fever Magazine
09-09-2007, 05:41 PM
Join Date: Sep 2007
Location:
Posts: 5
The Snowmobile as Featured in Corvette Fever Magazine
---
For Sale - The Snowmobile built by Doug Plette and Featured in Corvette Fever Magazine (
http://www.corvettefever.com/featuredvehicles/81278_1997_doug_plette_chevrolet_corvette/index.html
). This car has over $100,000 invested in it. I purchased this car recently, and I now realize this is too much car for a girl to handle. This is a guy's car with an engine that roars. This car is a monster with statistics that show it ran 725+rwtq with nitrous. (Only two bottles of nitrous has been run through the motor.) This is a one-of-a-kind very special car for the collector, racer, or weekend driver. Meticulously maintained, loved and pampered. Always garage kept. Although this car is a jaw dropper and is great for my ego (which is why I bought it), I need something more practical. Offered at $38,000 OBO. Newer trades considered.

[email protected]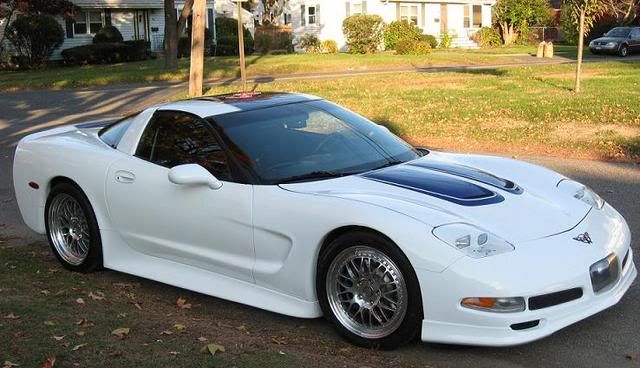 09-21-2007, 02:51 PM
Join Date: Sep 2007
Location:
Posts: 5
RE: The Snowmobile as Featured in Corvette Fever Magazine
---
These are just some of the modifications. I have a complete page ofperformance mods, appearance mods and statistics. All this is Greek to me, but my mechanic verified that there is $100,000 invested in this car. This is a truly unique opportunity. I am willing to negotiate on the price, especially since I have found a replacement Vette locally with a manual transmission that is calling my name. I have become quite comfortable driving the Snowmobile; but this is a guy's car. If anyone would like more photos, I can email them to you. The photos on this site do not give the car justice.

Performance Modifications
Agostino Racing Engines (ARE) 427 aluminum-block stroker motor (re-sleeved factory LS1 5.7 block with 4.080 borex 4.080 stroke)
Custom Ross pistons
Childs & Albert rings
Lunati pro-billet 6.200 rods
Cloyes timing chain
Clevite H Series race bearings
Motor balanced and blueprinted
Underdrive pulley
ARE/Lunati custom-ground State 11 cam
Stage III LS6 heads (2.100 x 1.600) with complete competition three-angle valve job
Manley Race Flo stainless steel valves with Viton valve seals and titanium retainers
Comp Cams racing locks
ARE custom head-bolt kit
Custom 4.100 bore HP head gaskets
LS6 intake with custom direct-inject Pro Fogger nitrous system with annular nozzles and a completely separate fuel system for the nitrous, including stand alone fuel pump
Breathless Performance airbox, ported BBK throttle body
DRM BeCool integrated oil cooler radiator
ARE Custom Progressive long-tube headers (1 3/4 to 1 7/8 to 2 inch into 3-inch collector)
Custom 3-inch exhaust with X-pipe into B&B PRTs
Cartek clutch
Halon underhood fire system
Bilstein Sports shocks
Valentine V1 radar locator
Full custom-moly rollcage
Battery moved to the rear, safety cutout switch

09-23-2007, 09:14 PM
Join Date: Jul 2007
Posts: 54
RE: The Snowmobile as Featured in Corvette Fever Magazine
---
Hello, just wondering if you could send some more pictures of the interior and engine to
[email protected]
. What does the car need, does everything work, especially the A/C. Thanks.
Thread
Thread Starter
Forum
Replies
Last Post
Vendor Group And Special Buys